SCJ Markets - Ocean Habor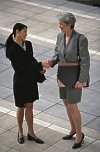 The SCJ Ocean Harbor program offers you a market with broad driver and driving record acceptability.
Highlights:
Ocean Harbor is rated B by A. M. Best
15/30/10 and 15/30/5 liability limits
All license status OK and California license proof not required (MVR activity must meet program guidelines)

Foreign licenses
Out of State licenses
No license
Expired, suspended, revoked licenses
Permit drivers

Broad driving record acceptability - numerous accidents, DUI's and violations
No need for named insured to be the registered owner of the vehicle

$500 and $1000 deductibles for physical damage
Double deductible first 30 days of policy
Named operator physical damage

1,3,6,12 month policy terms
Discounts:
20% California Good Driver discount
10% Drinking Driver Awareness discount
15% multi-car discount
10% persistency discount
5% discount for mature drivers who complete an accident prevention course approved by the DMV
SCJ Features:
More than 30 years of service to producers
www.scjins.com

Policy inquiry
AutoPay
Reprint an AutoApp
Void an AutoApp
AutoDocs
Broker commission statements
View lapsed policies
View EFT transactions
Daily Activity
You're not an SCJ Producer? Click here to see how easy it is.
License No. 0551213
Copyright © 2000 SCJ Insurance Services All rights reserved.

Home | Active Producers | Consumers | About SCJ

Directory | Become a Producer | Markets
SCJ Advantages | Employment | Insurance Sites