SCJ Markets – Dongbu Insurance Co., Ltd. (U.S. Branch) Frontier Program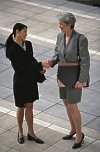 SCJ and Dongbu Insurance have teamed to bring you the Frontier program, another great reason to place your nonstandard clients with SCJ! Our many years of experience writing California nonstandard auto and Dongbu's 'A' rating by A.M Best will benefit both you and your clients.
Highlights:
Extra vehicles – very attractive rate
Named Driver - reduced comp/collision rates
Many, many discounts!
1, 3, 6, 12 paid in full policy terms
6 and 12-month installments
Liability limits: 25/50/10, 15/30/10, 15/30/5
Comp/Collision deductibles: 500, 600, 750, 1000
US licensed drivers only
Double deductible first 30 days of policy on physical damage coverage
Discounts:
Named Driver Economy
At-Fault Accident Free
Alcohol Educational Awareness
Occasional Operator
Non-Smoker
Good Student
Multi-Policy
SCJ Features:
More than 35 years of service to producers
www.scjins.com

Policy inquiry
AutoPay
Endorsements
Reprint an AutoApp
Void an AutoApp
AutoDocs
Broker commission statements
View lapsed policies
View EFT transactions
You're not an SCJ Producer? Click here to see how easy it is.
License No. 0551213
Copyright © 2000 SCJ Insurance Services All rights reserved.

Home | Active Producers | Consumers | About SCJ

Directory | Become a Producer | Markets
SCJ Advantages | Employment | Insurance Sites